What is bing Business Place?
Bing Business place is a service by Microsoft that offers a variety of features for small business owners. The site offers tools to help entrepreneurs and business owners manage their company's finances, create marketing campaigns, track inventory, and add business to Bing Places.
Bing is a search engine created by Microsoft. Originally called Bing, the name was changed to Microsoft Bing in late 2009.
The site also includes information and videos about topics such as finding financing, managing employees and staying motivated in the tough economic environment.
How to Add Your Business Listing on Bing Place?
To add or edit your business listing on Bing, you need to sign in to your Microsoft account.
Next, select the "Add a new business" or "Edit my business" button under the My Business section.
You will be asked for information about your company including location and website. Finally, you will be able to save your updated information.
Step by Step guide to add your business listing on Bing Business
Step 1.  Go to https://www.bingplaces.com/ and login with your Microsoft account. If you don't have a Microsoft Account, Create one for Free with Microsoft with the help of your email address and Phone Number. Additionally, you can sign in by using your Google account or Facebook account.
Step 2. There are two options to add your business listing on Bing Places, once you are signed in, First one is Import From Google My Business Now and the second is Claim or add your Business Manually.
Import from Google My Business Now: if your business is already on Google My Business, you can use this option
Claim or add your Business Manually
Step 3. On the next page Select, what is your business type? And the country where your business is located? The options are given in the dropdown.
Step4. Search for your business with the phone number or business name and location
Step 5. If the search results do not show your business, Click on Create New Business
Step 6. On the next page Enter your business details like Business Name, Phone Number, Business Address, website. Make sure to add the same business information that you have used with other business listings websites.
Step 7. On the next page, choose your business segment, Business category, and describe your business
Step 8. Add the additional business details on the next page and click next
Step 9. Enter your contact details like your email address and your social media pages of Facebook, Twitter, Yelp, TripAdvisor and click next
Step 10. Add Photos of your business, you can add up to 100 photos of your business and click next, update or enter the working hours of your business and click on submit.
Step 11. On the next page verify your business, There are five options to verify your business
Verify by Phone – Bing will call you with your verification code over the phone, enter the code that you receive during the call.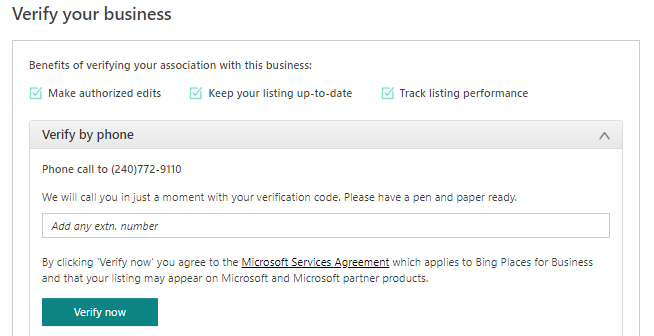 Business Verification by SMS/text – Bing will send you SMS/text with your verification code on the phone number you have provided with your business information, enter the code
Verify by Email – Bing will send the verification code to the email address. Bing only uses a business email address which is related to your business website domain name.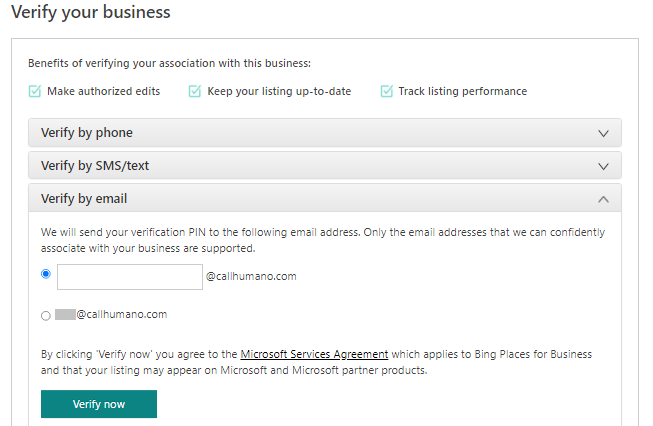 Verify By Website –To verify your business listing  with your website, you should get your business website verified on the Bing webmasters tool
Verify by Post –Bing will send your verification code to the address you have provided with your business information. Normally it takes around 5-6 working days to receive the code in the united states.
For your Business listing to appear in bing search results it takes time, from one week to two weeks.
How Bing local listing is beneficial for SEO?
Bing local listing is one of the best things to happen to online search. Which makes it very easy for people not just to find your address and phone number, but images, opening hours, and reviews. In other words: this can help searchers decide whether they want to contact you or not.
From the homepage to local searches and directories, Bing is an important part of any SEO campaign. Bing local listings are beneficial for SEO because they give additional visibility about the business and its services. It also helps to increase website traffic through local business listing search results.
Why You Should Claim Your Business Listing on Bing Places?
One of the biggest benefits of claiming your business listing on Bing is that you have control over it. You can change the information if you find an error, upload photos, and even highlight your products or services.
If someone sees your listing and clicks on it, they are taken to a page with information about your business including address, phone number, hours of operation, reviews, and more.
Conclusion
The Bing Business Portal is an excellent service for businesses of any size. It provides a free platform to manage your business's online presence through one centralized portal.
One of the most important benefits to having your business on the portal is that you can include it on Bing's search engine. This ensures that customers can find your company when they are searching for a local business, as well as even read about reviews about your company and see if there is anything in particular that they want to know more about before visiting your storefront.
For many businesses, this is an essential tool to help get their brand known.